Commongrounds Cooperative: From Groundbreaking to Grand Opening
June 22nd, 2023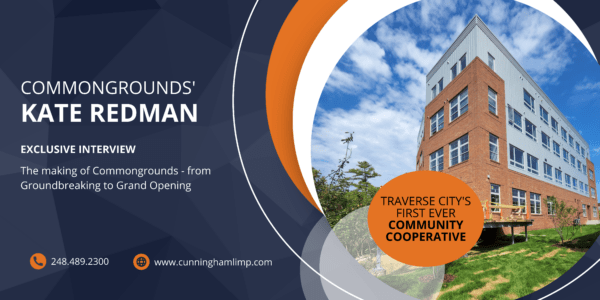 Traverse City, Michigan, a city known for its stunning landscapes, creative entrepreneurs, and thriving tourism, has expanded in recent years to accommodate exponential growth in visitors and new residents. The result has been a significant strain on basic infrastructure and professional services. In response, Kate Redman, the visionary behind Commonplace Work, and Chris Treater, founder of Higher Grounds Coffee, came together with a shared vision: to create a living space that prioritizes community over profit. This led to the birth of Commongrounds Cooperative, an affordable, sustainable, and socially responsible hospitality development that aims to be a hub for community improvement and connection. In this interview, we delve into the journey of Commongrounds, from its inception to the upcoming grand opening.
Q: Kate, could you take us back to the initial idea behind Commongrounds Cooperative? What inspired you to embark on this ambitious project?
A: Commongrounds was born out of our deep love for Traverse City and our shared desire to create a space that truly focuses on people and community. Chris and I developed a cooperative approach where residents collectively own and manage the development, ensuring that the space caters to the community's specific needs. By listening to feedback from the community, we identified what would benefit them the most. Joe Sarafa played a key role by purchasing the site and guiding us through the process of becoming property developers. With the support of architect Ray Kendra and the construction experts at Cunningham-Limp, we overcame challenges and made this project a reality.
Q: Could you explain what a real estate cooperative is?
A: A community-owned real estate cooperative is a way for people in a community to collectively own and manage properties together – in other words, a crowdfunded real estate. In this model, each member of the cooperative has an equal say in decision-making and shares in the benefits and responsibilities of property ownership. At the time this interview is taking place, there are nearly 1000 community owners and counting.
To elaborate on our model further, at Commongrounds, we have two tiers of real estate cooperatives. The first is for individuals within the community, where we utilize annual investment crowdfunding to raise equity shares. The second tier is for non-profits and businesses that want to build equity in their spaces rather than just paying rent. This model allows residents to take control of their local property market, foster economic resilience, and create a more inclusive and equitable community for everyone involved.
Q: The bird theme is quite prominent in your project. Could you tell us more about its origin?
A: At the beginning of the project, we launched an "early bird ownership campaign" that incorporated several bird-themed initiatives. Surpassing our target of 250 owners, we had over 350 participants. Since then, the bird theme has stuck and become an integral part of our project branding.
Q: What problems does Commongrounds aim to solve?
A: Commongrounds tackles several issues, such as the need for workforce housing, accessible childcare, and a lack of middle-sized performing arts spaces. Every space in the building addresses a need in the community – for example, Traverse City boasts a wealth of talented musicians and is ranked as one of the top 10 small cities for art culture. However, there was a shortage of appropriately sized venues to accommodate the abundance of talent. The Alluvian, a tenant space in Commongrounds, aims to generate revenue from shows while offering live streaming and recording capabilities for the up-and-coming local artists.
Q: What impact do you envision Commongrounds having on the community in the next five to ten years?
A: In the next 5 to 10 years, my vision for Commongrounds is for it to become an essential part of people's lives, to the point where they can't imagine Traverse City without it. This space will foster the development of new social networks and provide opportunities for community connection and the sharing of creative ideas. The 8th Street corridor will continue to thrive as a walkable and bikeable center, aligning with the city's vision.
Q: How can this real estate model be replicated in other communities?
A: The involvement of people in the co-design process is a crucial aspect that can be replicated in other projects. This approach creates an open opportunity for individuals to communicate and collaborate, solving problems through social infrastructure. Another essential factor is stakeholder ownership and leadership, which enables the sharing of both risks and benefits within the community.
Q: What were some of the significant hurdles you faced, and how did you overcome them?
A: The COVID-19 pandemic had a significant impact on construction costs, but with Cunningham-Limp's support and their willingness to share the risk, we navigated through it. With the community's backing, even as first-time developers, we adapted and became more comfortable with the changes.
Q: What sets this project apart from others?
A: What makes Commongrounds unique is our approach of prioritizing the community's vision over financial considerations – and of course the community cooperative model. We began by identifying the community's most desired outcome, asking ourselves, "What's the most magical thing the community would want to build here?" This focus ensured that complex features like childcare services and other needs in the community were not overlooked despite the ever-present challenges.
Q: What aspect of the project are you most proud of?
A: I am most proud of the potential for social collaboration, creativity, and connection that Commongrounds offers. Communities with strong social infrastructure and spaces for people to connect tend to experience lower crime rates and poverty and higher rates of upward mobility. The social connections that will flourish within this space are what I am most proud of.
Q: Are there any other spaces you haven't mentioned that the community can expect to see?
A: Our building includes a teaching kitchen in partnership with Groundwork, a nonprofit that emphasizes "food as medicine." The kitchen serves as a lunchroom for building occupants and offers cooking classes using local food, which physicians can prescribe. Additionally, Higher Grounds' learning lab provides barista training and will soon feature food and drink tastings. NoBo Mrkt, another exciting addition, will become a food space incubator open to both non-profit and for-profit food entrepreneurs. Our goal is to provide mentorship and resources to help aspiring chefs build their reputations and skills before opening their restaurants.
Q: With the grand opening approaching, what do you want the community to know about Commongrounds?
A: The upcoming grand opening is the culmination of years of hard work, dedication, and collaboration. My hope is that Commongrounds becomes a thriving hub of community life where residents feel a deep sense of belonging, connection, and pride. Not only can the community enjoy everything it has to offer, but they also have the opportunity to become part owners and contribute to its governance as much as they wish.
After years of planning, fundraising, construction, and navigating the challenges of a global pandemic, Commongrounds will finally open its doors to the public this June. The completion of this ambitious project is a remarkable achievement for Kate Redman and her collaborative team.
For Traverse City, the completion of Commongrounds Cooperative stands as a beacon of hope, demonstrating the possibility of creating a community-focused living space that integrates sustainability, affordability, and social responsibility. As Traverse City continues to evolve, projects like Commongrounds serve as a testament to the power of collective vision and the positive impact it can have on a community. Don't miss the Public Grand Opening on June 23rd!