Groundbreaking Celebration – The Flats at Iron Ridge
March 18th, 2022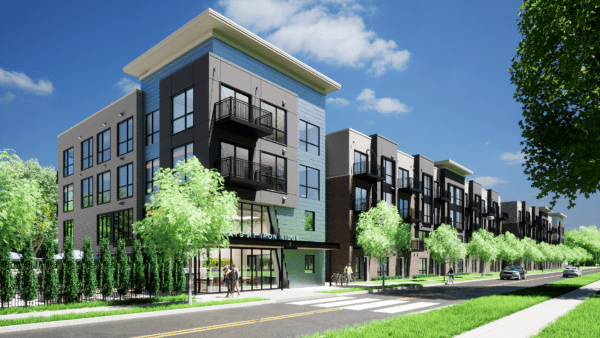 Ferndale, MI. Friday, March 18th, 2022: First Holding Corporation, Cunningham-Limp, and Iron Ridge District celebrate the Groundbreaking of "The Flats at Iron Ridge." This multi-family, 90+ unit residential development blends a modern aesthetic with visions of the vibrant, urban ambiance of Ferndale, Michigan.
This celebration represents a significant step in the conscious redevelopment of the Iron Ridge District. Situated between I-75 and I-696, the 12-acre development hosts thriving local businesses in a central location. These businesses include Pulse Fitness, a personal training and wellness center, Computer Aided Technology, a product development solutions provider, Driven Creative Supply, a full-service advertising & branding company, Cognex Corporation, an international supplier of software, sensors, vision systems, and industrial barcode readers used in manufacturing automation, Alex Drew & No One, a custom furniture and object design studio, Air Master Heating, Air Conditioning, & Fireplace, a local company servicing Southeast Michigan since 1983, and RELEASE, a dance, and entertainment hub for Detroit's creative community. Additionally, Sozo Health, a premium cannabis retail store, is under construction and slated to join the Iron Ridge District later this year.
Ferndale is loved not only for its diversity but for its inclusivity. The apartment project intentionally reflects this people-centric approach as it seeks to bolster Ferndale's housing supply. The Iron Ridge District will be a dynamic, mixed-use redevelopment where residents will work, live, and play in the community.
While these inspirations of future economic growth begin to take root, the development is already taking steps to catalyze the neighborhood's involvement in the project. The construction site for The Flats at Iron Ridge will host a partnership between Cunningham-Limp, First Holding Management Corporation, and LifeLab Kids. This partnership will rely upon the robust technical resources of the construction site to aid the construction of Ferndale's LifeLab Kids Interactive Therapy Garden. At the groundbreaking event, First Holding management presented a check to the non-profit organization as additional support for their cause.
"Today's groundbreaking not only represents the mobilization of hundreds of construction jobs but also a true commitment to the local community.  In addition to adding a high-quality housing supply to one of our region's most vibrant and diverse communities, the construction efforts themselves will do their part to uplift the community," says Steve Schimpke, Director of Client & Real Estate Strategy at Cunningham-Limp. "On-site resources from the project will be donated to manage the LifeLab Kids transformational Interactive Therapy Garden project at their Ferndale location.  Cunningham-Limp is deeply committed to this effort, but it would not be made possible without the enthusiastic support of First Holding and the Iron Ridge District."
"We are excited to begin the residential phase of our Iron Ridge District development. The Flats at Iron Ridge was conceived and planned throughout the pandemic, and our thanks go out to the entire First Holding team, along with our talented architects, engineers, designers, general contractor, and other participating consultants," says Craig Singer, a principal at First Holding Corporation. "In addition, we thank our community partners in the City of Ferndale, City of Pleasant Ridge, Oakland County, and their Brownfield Authority, and the MEDC. Without their help, this commencement would not have been achieved. We look forward to a smooth construction process and a successful opening during the winter season of 2023/2024."
Features of the Groundbreaking event included:
A ceremony recognizing the project's most influential advocates
Speeches shared by representatives of First Holding Corporation (Owner), Cunningham-Limp, (Construction Manager), Krieger Klatt (Architect), and government leaders
Official Groundbreaking photo and media opportunities
Completion of the project's construction is expected to occur during the winter season of 2023/2024. For more information on The Flats at Iron Ridge, please visit: https://cunninghamlimp.com/projects/flats-at-iron-ridge/
About First Holding Corporation: Founded in 1955, First Holding Corporation is a multi-faceted real estate company active in acquisitions, development, construction, and property management. Headquartered in West Bloomfield, MI, First Holding Corporation owns and manages retail, industrial, office, and multifamily properties throughout Michigan.
About Cunningham-Limp: Headquartered in Novi, MI, Cunningham-Limp is a construction management organization that prioritizes having a positive impact upon every community they work with.