JST Project Takes the Spotlight as ENR Midwest's Cover Story
September 20th, 2023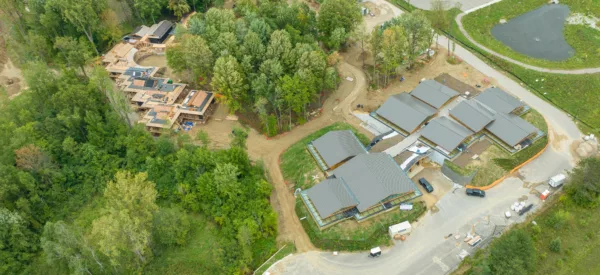 Cunningham-Limp's prestigious JST project has been featured as the cover story in ENR Midwest, the industry's most widely read publication. This recognition is a testament to our dedication to pushing the boundaries of what is possible in the construction industry.
The JST project, a jewel in our portfolio, has garnered attention for all the right reasons. This cutting-edge development showcases our unwavering commitment to delivering projects of the highest quality and innovation.
The article titled "Detroit Corporate Campus Aims to Be One of Michigan's Most Sustainable Buildings" featured in ENR Midwest highlights the JST Campus project, emphasizing its ambitious sustainability goals never seen before in this industry. With advanced geothermal systems, biodiversity inclusion efforts, and Native-American influences, JST aims to redefine sustainable construction standards in Michigan
As we celebrate this milestone, we remain committed to our mission of making a positive impact on people, communities, and companies. The JST project's recognition in ENR Midwest serves as a reminder of the incredible projects that we have the privilege of being a part of, and it motivates us to continue pushing the boundaries of what is possible in our industry.
For more in-depth insights into the JST project and the remarkable journey behind its success, we invite you to read the full article on ENR Midwest's website here. Print copies of the issue can be purchased here.
Stay tuned for more updates from Cunningham-Limp as we continue to shape the future of construction and development with passion and dedication. Thank you for being a part of our journey.